The Center for Law & Justice (CLJ)
The Center for Law & Justice (CLJ) is a nonprofit, nonpartisan, nongovernment organization striving to protect the rights and interests of disadvantaged religious communities, women and labor rights by engaging in advocacy, strategic litigation, research and policy analysis since 2011. The CLJ strongly believes in dignity, gender justice, participation, collaboration, equality, sustainability and climate justice, primarily for more disadvantaged communities. The Center aspires to achieve Muhammad Ali Jinnah's egalitarian vision of Pakistan in line with the Universal Declaration of Human Rights (UDHR), Sustainable Development Goals (SDGs) and the 1973 Constitution of Pakistan.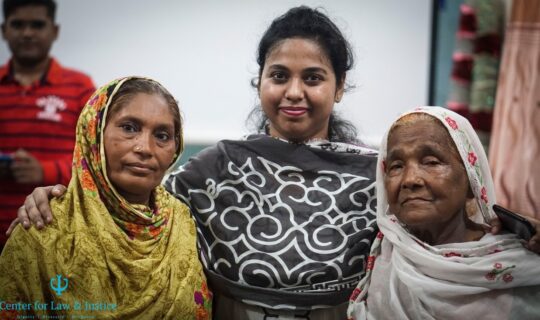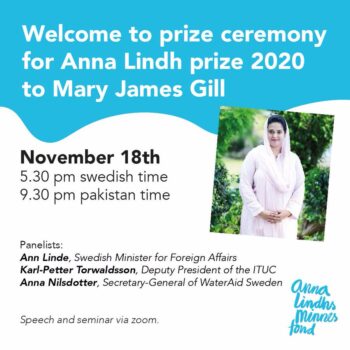 Mary James Gill
As a lawyer and activist, Mary James Gill connects human rights, health, and working conditions not least through the Sweepers are Superheroes campaign. Mary's insistent work for the most vulnerable groups, based on human rights is entirely in line with the values Anna Lindh stood for. Therefore, we are very proud to award Anna Lindh prize 2020 to Mary James Gill.
The 2020 Anna Lindh Prize goes to Pakistani human rights lawyer Mary James Gill, a champion and activist for sanitation, hygiene and clean water. She works hard for waste disposal and sanitation workers, rarely noticed groups with important roles.
Commendable step by Municipal Committee Attock:
On International Human Rights day 2021, Vice Chairman Attock Mr. Malik Tahir Awan issued notification to ban use of word #Chuhra (چُوڑا) for #SanitaryWorkers and "strict legal action will be taken against the violators".
It further instructed the officers to treat their subordinates with #respect and they should also maintain the #dignity of #citizens at large.
Municipal Committee Attock is one of the six MCs of Attock District. It spreads over an area of 1,350 square Kilometres with a population of 500,770 (as per DCR 1998).
Attock was raised to the level of Municipal Committee in 1922. After the implementation of Punjab Local Government Ordinance 2001, it was given the status of MC.